Deine Ausbildung bei HandyGames™
Du bist auf der Suche nach einem spannenden Ausbildungsplatz in einer Branche, die für viele einen Traumarbeitsplatz darstellt? Dann bist du bei uns an der richtigen Adresse! Als einer der führenden freien Spieleentwickler und einzigartiger Arbeitgeber in der Region öffnen wir dir die Tür, direkt ins Herz der Spieleindustrie. Durch unsere langjährige Erfahrung in Sachen Ausbildung haben wir nicht nur intern eingespielte Strukturen, sondern sind auch exzellent mit den Berufsschulen vernetzt. Wir sind außerdem offiziell Teil des IHK-Prüfungsausschusses und selbstverständlich ein staatlich anerkannter Ausbildungsbetrieb.
Dies betont auch Christopher Kassulke (CEO) in einem Interview: "Für uns ist die Ausbildung keine Schleuse junger Menschen. Unser primäres Ziel ist es neue, topausgebildete Teamplayer für HandyGames™ zu gewinnen. Darum wollen wir unsere Auszubildenden, in die wir viel Zeit und Geld investiert haben, natürlich auch nach der Ausbildung übernehmen." Wir bieten mehrere verschiedene Ausbildungen an. Verschaffe dir auf dieser Seite einen Überblick. Es lohnt sich! Dich erwartet eine interessante Ausbildung, an deren Ende du dich mit Sicherheit zu einer echten Fachkraft weiterentwickelt hast!
Please note that we can only accept applicants with native-level fluency in German for these apprenticeship positions. The following apprenticeship position descriptions are in German.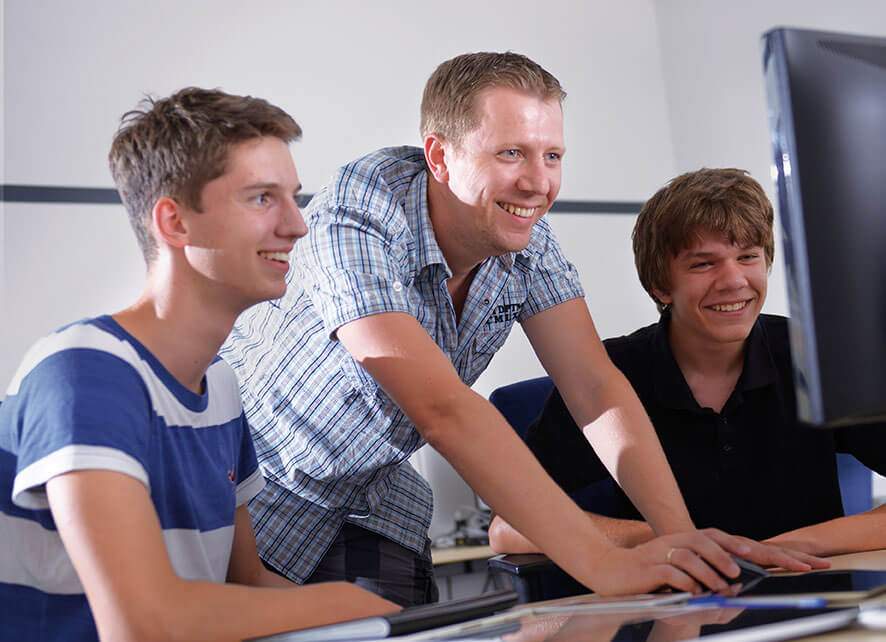 Fachinformatiker/in
(Fachrichtung Anwendungsentwicklung)
In unseren Entwicklungsteams erfolgt die Programmierung der Games für Smartphones, Tablet-PCs, Konsolen und anderen Spieleplattformen sowie die Anpassung und Weiterentwicklung der dazu erforderlichen Entwicklungs-Tools. Wir arbeiten in kleinen skalierbaren Teams mit den neuesten Developer-Tools wie z.B. Unity. Durch die Verschmelzung der verschiedenen Ideen, Grafiken und Codezeilen erschaffen wir unser Spiel.
Du hast Spaß an Games und eine Schwäche für aktuelle Technologien.
Du hast Freude an der Umsetzung komplexer Aufgaben.
Du hast mindestens den mittleren Bildungsabschluss und gute Noten in Deutsch, Mathematik und Englisch.
Du hast bereits erste Erfahrungen mit einer Programmiersprache (z.B. Java, C#, Objective C, C++) sammeln können.
Du verfolgst interessiert die Nachrichten zu Politik, Kultur und Zeitgeschehen.
Ausbildungsdauer: 3 Jahre
Ausbildungsbeginn: 1. August
Standort: Giebelstadt, i_Park Klingholz 13
Berufsschule: Klara-Oppenheimer Schule (Homepage)
Berufsschul-Rhythmus: Blockunterricht
Bitte sende uns keine komprimierten Dateien (ZIP/RAR/etc.). Wir nehmen ausschließlich PDF Dateien oder Portfoliolink an. Vielen Dank.